John B. McKay was one of the first pilots assigned to the X-15 flight research program at NASA's Flight Research Center, Edwards, Calif. As a civilian research pilot and aeronautical engineer, he made 30 flights in X-15s from October 28, 1960, until September 8, 1966. His peak altitude was 295,600 feet, and his highest speed was 3863 mph (Mach 5.64).
McKay was with the NACA and NASA from February 8,1951 until October 5, 1971 and specialized in high-speed flight research programs. He began as an NACA intern, but assumed pilot status on July 11, 1952. In addition to the X-l5, he flew such experimental aircraft as the D-558-1, D-558-2, X-lB, and the X-lE. He has also served as a research pilot on flight programs involving the F-100, F-102, F-104, and the F-107.
Born on December 8, 1922, in Portsmouth, Va., McKay graduated from Virginia Polytechnic Institute in 195O with a Bachelor of Science degree in Aeronautical Engineering. During World War II he served as a Navy pilot in the Pacific Theater, earning the Air Medal and Two Clusters, and a Presidential Unit Citation.
Les vols de John Mc Kay

N° du vol

Pilote

Date

Vitesse (Mach)

Altitude (m)

Remarque

McKay

28/10/60

2.02

15.453

Premier vol de McKay

McKay

01/02/61

1.88

15.173

_

2-24-44

McKay

29/06/62

4.95

25.359

_

2-25-45

McKay

19/07/62

5.18

25.984

_

2-29-50

McKay

28/09/62

4.22

20.787

_

2-30-51

McKay

09/10/62

5.46

39.685

_

McKay

09/11/62

1.49

16.454

Le X-15 n° 2 est détruit à l'atterrissage, Mc Kay est gravement blessé.

1-34-55

McKay

25/04/63

5.32

32.156

Retour de Mc Kay dans l'équipe.

1-35-56

McKay

15/05/63

5.57

37.856

_

1-35-56

McKay

15/05/63

5.57

37.856

_

3-27-44

McKay

13/03/64

5.11

23.165

_

3-28-47

McKay

12/05/64

4.66

22.189

_

1-49-77

McKay

30/06/64

4.96

30.258

_

3-33-54

McKay

26/08/64

5.65

27.737

_

1-50-79

McKay

15/10/64

4.56

25.877

_

2-35-60

McKay

30/11/64

4.66

26.579

_

1-52-85

McKay

26/02/65

5.40

46.817

_

McKay

28/04/65

4.80

28.224

Un suiveur stellaire, comportant quatre caméras de 35 mm pour photographier le rayonnement ultraviolet des constellations, testé avec succès.

McKay

18/05/65

5.17

31.120

Premier vol du X-15-A2 sans la partie détachable de la dérive ventrale

2-39-70

McKay

22/06/65

5.64

47.518

_

McKay

08/07/65

5.19

64.800

Photographies d'étoiles

2-42-74

McKay

02/09/65

5.16

73.091

_

3-48-72

McKay

14/09/65

5.03

72.847

_

Mc Kay

28/09/65

5.33

90.099

Premier vol spatial de Mc Kay, 150ème mission du X-15

3-51-75

McKay

27/10/65

5.06

72.207

_

1-63-104

McKay

06/05/66

2.21

20.848

_

1-65-108

McKay

28/07/66

5.19

73.700

_

1-66-111

McKay

11/08/66

5.21

76.505

_

1-67-112

McKay

25/08/66

5.11

78.486

_

1-68-113

McKay

08/09/66

2.44

22.311

30ème et dernier vol de Mc Kay
McKay wrote several technical papers, and was a member of the American Institute of Aeronautics and Astronautics, as well as the Society of Experimental Test Pilots.
He died on April 27, 1975.
Captain Forrest S. Petersen, was born in Holdrege, Nebraska on 16 May 1922. He is the son of Mrs. Stella B. Petersen who lives in Gibbon, Nebraska. Prior to entering the Navy he attended the University of Nebraska.
He was commissioned an Ensign upon graduation from the United States Naval Academy in June of 1944 and reported to the destroyer USS CAPERTON (DD 650). While serving aboard CAPERTON he participated in campaigns in the Philippines, Formosa and Okinawa. After graduation from flight training in 1947, he was assigned to Fighting Squadron Twenty Able which was later redesignated Fighter Squadron ONE NINETY TWO.
He was selected for Post Graduate training in Aeronautical Engineering in July 1950 and upon completion of two years of study at the Naval Post Graduate School was awarded a Bachelors Degree (AE). He continued studies for one year at Princeton University and received a Masters Degree in Engineering. From 1953 to 1956 he served with Fighter Squadron FIFTY ONE. In 1956 he was selected to attend the Naval Test Pilot School and remained as an instructor following graduation. in August 1958 he was assigned duties as Research Pilot in the X-15 Program and served with the National Aeronautics and Space Administration Flight Research Center at Edwards, California until January 1962. During that time he made five free flights in the X-15 and achieved a speed of 3,600 MPH (Mach No. 5.3) and an altitude of about 102,000 feet. Captain Petersen was the only Navy pilot to fly the X-15. In July 1962 he was a joint recipient of the Collier Trophy which was presented by President John F.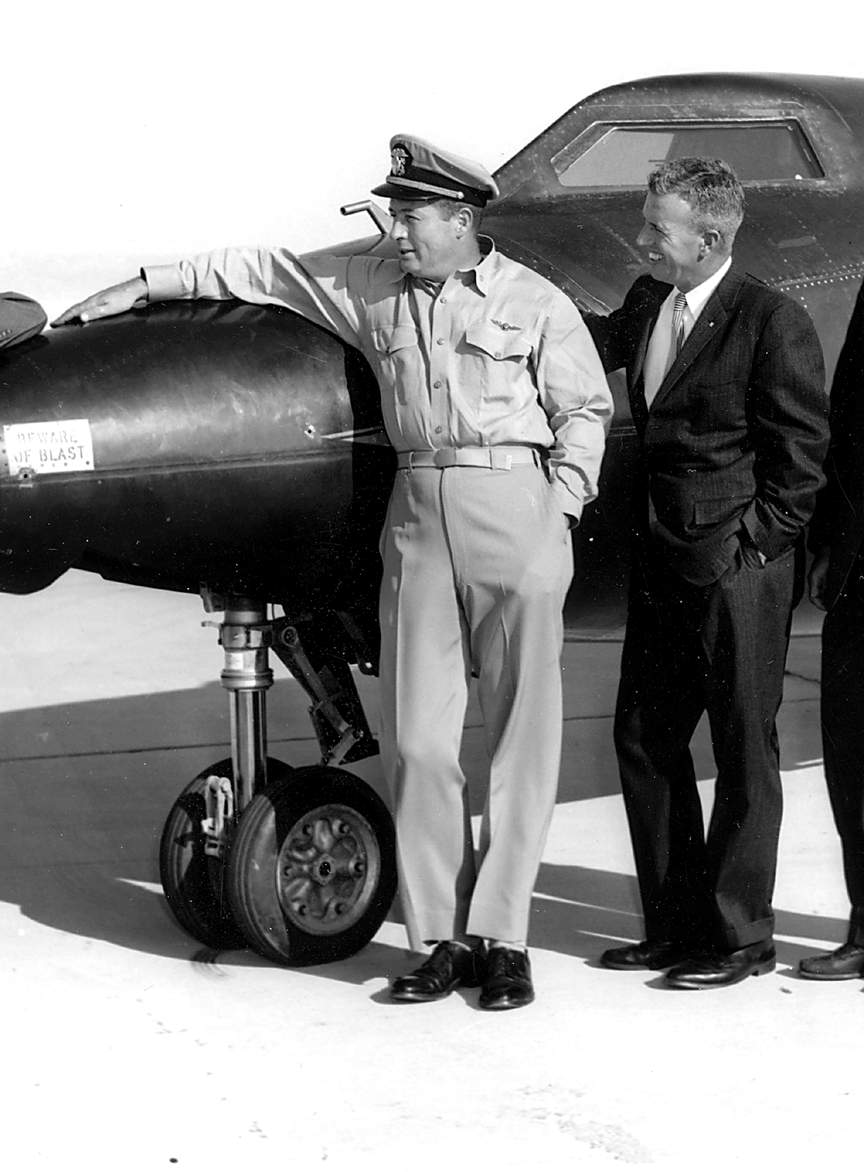 Kennedy and the NASA Distinguished Service Medal which was presented by Vice President Lyndon B. Johnson, Captain Petersen served as Commanding Officer of Fighter Squadron ONE FIFTY FOUR prior to being assigned to the office of Director, Division of Naval Reactors, AEC for Nuclear Power Training. He reported to USS ENTERPRISE in January 1964 and served therein as Executive Officer until April 1966. He was awarded the Bronze Star for duty during ENTERPRISE's first combat tour in Vietnam. He was then assigned duties as an Assistant to the Director of Naval Program Planning in the office of the Chief of Naval Operations. In November 1967 he assumed command of USS BEXAR (APA 237) in the Pacific Fleet Amphibious Forces. Following an eight month deployment with the Seventh Fleet Amphibious Forces in the Western Pacific he was awarded the Navy Commendation Medal with Combat V.
Les vols de Forrest Petersen

N° du vol

Pilote

Date

Vitesse (Mach)

Altitude (m)

Remarque

Petersen

23/09/60

1.68

16.167

Premier vol de Petersen, panne des XLR-11

Petersen

20/10/60

1.94

16.398

_

Petersen

10/08/61

4.11

23.835

Premier vol du X-15 n°1 avec XLR-99

Petersen

28/09/61

5.30

31.029

Nouveau record de vitesse

Petersen

10/01/62

0.97

13.640

Dernier vol de Petersen, panne du XLR-99, atterrissage à Mud Lake
Captain Petersen holds the following awards for service in World War II, Korean War and the Vietnam War:
Legion of Merit, Distinguished Flying Cross, Bronze Star, NASA Distinguished Service Medal, Navy Commendation Medal, American Defense, Pacific Theatre, American Theatre, Asiatic Theatre, China Service, Japanese Occupation, Philippine Liberation, Philippine Presidential Unit Citation, World War II Victory, Korean Service, United Nations Korean Service, Vietnam Service, Vietnamese Campaign.
Robert Rushworth was a USA test pilot who flew the X-15 thirty-four times to a maximum speed of 4,018 mph (Mach 6.06) and a maximum altitude of 285,000 feet.
He not only flew the rocket research aircraft more times than any other pilot but was also the second Air Force X-15 pilot to attain the astronaut rating. Having served in World War II, Korea, and Vietnam, Rushworth also served in a number of important positions including that of Commander, AF Test and Evaluation Center.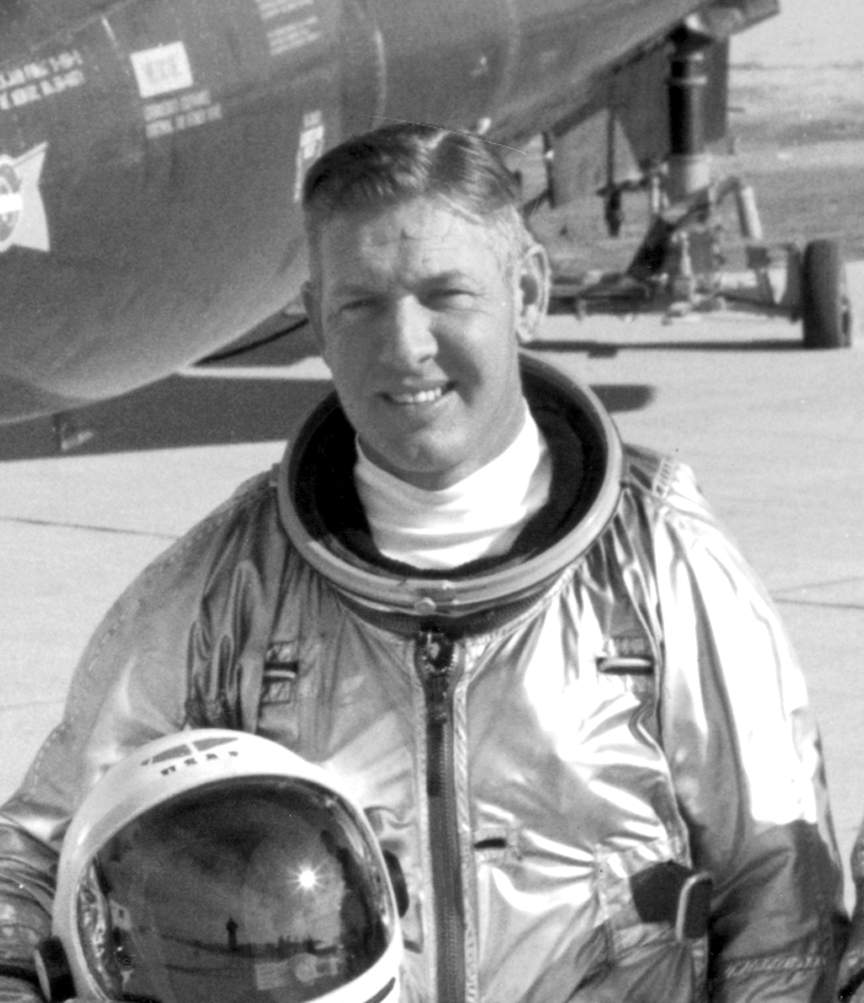 He retired from the Air Force in 1981 as Vice Commander of the Aeronautical Systems Division at Wright-Patterson AFB, Ohio.
Les vols de Robert Rushworth

N° du vol

Pilote

Date

Vitesse (Mach)

Altitude (m)

Remarque

Rushworth

04/11/60

2.95

14.905

Premier vol de Rushworth

Rushworth

17/11/60

1.90

16.688

_

Rushworth

04/10/61

4.30

23.774

Vol sans dérive ventrale détachable

2-22-40

Rushworth

08/05/62

5.34

21.458

_

1-28-49

Rushworth

22/05/62

5.03

30.602

_

2-26-46

Rushworth

08/08/62

4.40

27.700

_

2-27-47

Rushworth

20/08/62

5.24

27.097

_

2-28-48

Rushworth

29/08/62

5.12

29.626

_

3-10-19

Rushworth

04/10/62

5.17

34.198

_

3-11-20

Rushworth

23/10/62

5.47

40.996

_

Rushworth

11/04/63

4.25

22.677

Premier vol du X-15 comme laboratoire volant

3-17-28

Rushworth

14/05/63

5.20

29.140

_

3-19-30

Rushworth

18/06/63

4.97

68.184

_

3-20-31

Rushworth

27/06/63

4.89

86.868

_

1-38-61

Rushworth

18/07/63

5.63

31.943

_

3-23-39

Rushworth

07/11/63

4.40

25.085

_

1-42-67

Rushworth

05/12/63

6.06

30.785

_

1-44-70

Rushworth

28/01/64

5.34

32.735

_

1-45-72

Rushworth

27/03/64

5.63

30.937

_

1-47-74

Rushworth

29/04/64

5.72

30.968

_

Rushworth

25/06/64

4.59

25.390

Rushworth

14/08/64

5.23

31.486

Deuxième vol du X-15-A2, ouverture de la trappe du train avant à Mach 4.5, éclatement des pneux à l'atterrissage

2-34-57

Rushworth

29/09/64

5.20

29.809

_

3-38-61

Rushworth

22/12/64

5.55

24.750

_

Rushworth

17/02/65

5.27

28.986

Ouverture inopinée du train arrière droit à 4500 km/h

1-53-86

Rushworth

26/03/65

5.17

31.059

_

3-45-69

Rushworth

20/07/65

5.40

32.126

_

2-41-73

Rushworth

03/08/65

5.16

63.612

_

3-47-71

Rushworth

26/08/65

4.79

73.030

_

1-58-97

Rushworth

09/09/65

5.25

29.626

_

1-59-98

Rushworth

22/09/65

5.18

30.571

_

Rushworth

03/11/65

2.31

21.519

Premier vol du X-15A-2 équipé de ses réservoirs externes (vides)

2-44-79

Rushworth

18/05/66

5.43

30.175

_

Rushworth

01/07/66

1.54

13.716

Premier vol du X-15A-2 avec réservoirs externes remplis de combustible, interruption du vol suite à des problèmes de transfert du combustible, 34ème et dernier vol de Rushworth