William H. Dana was Chief Engineer at NASA's Dryden Flight Research Center, Edwards, Calif., from 1993 until 1998, when he retired after almost 40 years of distinguished service to NASA. Formerly an aerospace research pilot, Dana flew the F-100 variable stability research aircraft and the Advanced Fighter Technology Integration/F-16 aircraft as well as many others.
Before his assignment as Chief Engineer, he was Assistant Chief of the Flight Operations Division, a position he assumed after serving since 1986 as Chief Pilot. He was also a project pilot on the F-15 HIDEC (Highly Integrated Digital Electronic Control) research program, and a co-project pilot on the F-18 High Angle of Attack research program.
Dana, born in Pasadena, Calif., Nov. 3, 1930, received his Bachelor of Science degree from the U.S. Military Academy in 1952 and served four years as a pilot in the U.S. Air Force. He joined NASA after receiving a Master of Science degree in Aeronautical Engineering from the University of Southern California in 1958.
As a research pilot, Dana was involved in some of the most significant aeronautical programs carried out at Dryden. For his service as a flight research pilot, he received NASAÕs Distinguished Service Medal in 1997. In 2000 he was awarded the Milton O. Thompson Lifetime Achievement Award by the Dryden Flight Research Center.
Les vols de William H. Dana

N° du vol

Pilote

Date

Vitesse (Mach)

Altitude (m)

Remarque

1-62-103

Dana

04/11/65

4.22

24.445

Premier vol de Dana

3-52-78

Dana

18/07/66

4.71

29.291

_

3-53-79

Dana

04/08/66

5.34

40.447

_

3-54-80

Dana

19/08/66

5.20

54.254

_

3-55-82

Dana

14/09/66

5.12

77.480

_

Dana

01/11/66

5.46

93.543

Premier vol spatial de Dana

Dana

26/04/67

1.80

16.276

Atterrissage de fortune à Silver Lake après une défaillance du XLR-99

3-59-89

Dana

17/05/67

4.80

21.671

_

3-60-90

Dana

22/06/67

5.44

25.054

_

3-61-91

Dana

20/07/67

5.44

25.725

_

3-63-94

Dana

04/10/67

5.53

76.535

_

1-74-130

Dana

01/03/68

4.36

31.851

_

1-75-133

Dana

04/04/68

5.27

57.150

_

1-77-136

Dana

11/05/68

5.15

67.086

_

Dana

21/08/68

5.01

81.534

Deuxième vol spatial de Dana

Dana

24/10/68

5.38

77.724

199 ième et dernier vol
He was a project pilot on the hypersonic X-15 research aircraft and flew the rocket-powered vehicle 16 times, reaching a top speed of 3,897 mph and a peak altitude of 307,000 feet (nearly 59 miles high). He was the pilot on the final (199th) flight of the 10-year program.
In the late 1960s and in the 1970s, Dana was a project pilot on the manned lifting body program, which flew several versions of the wingless vehicles and produced data that helped in development of the Space Shuttles. For his contributions to the lifting body program, Dana received the NASA Exceptional Service Medal. In 1976 he received the Haley Space Flight Award from the American Institute of Aeronautics and Astronautics for his research work on the M2-F3 lifting body control systems.
A member of the Society of Experimental Test Pilots, Dana is the author of several technical papers. Dana is married to the former Judi Miller. They are parents of four grown children and live in Tehachapi, Calif.
Joe Engle was born in Abilene, Kansas, and attended the University of Kansas where he graduated with a degree in aeronautical engineering in 1955. Commissioned through the Air Force ROTC program, he earned his pilot's wings in 1958 and was assigned to fly F-100s for the 474th Fighter Day Squadron and, later, the 309th Tactical Fighter Squadron at George AFB, California.
Although in command of another squadron, then-Lt. Col. Chuck Yeager had frequent opportunities to fly with Engle—and against him in mock dogfights—and he was extremely impressed by the young fighter pilot's attitude and ability. When Engle applied for admission to the USAF Test Pilot School at Edwards, Yeager recommended his selection. By the time he graduated from the school in 1962, Yeager had become the commandant and, because he considered Engle "one of the sharpest pilots we had in the program," he immediately selected him for admission to the new Aerospace Research Pilot School (ARPS) which was being established at Edwards to train military astronauts.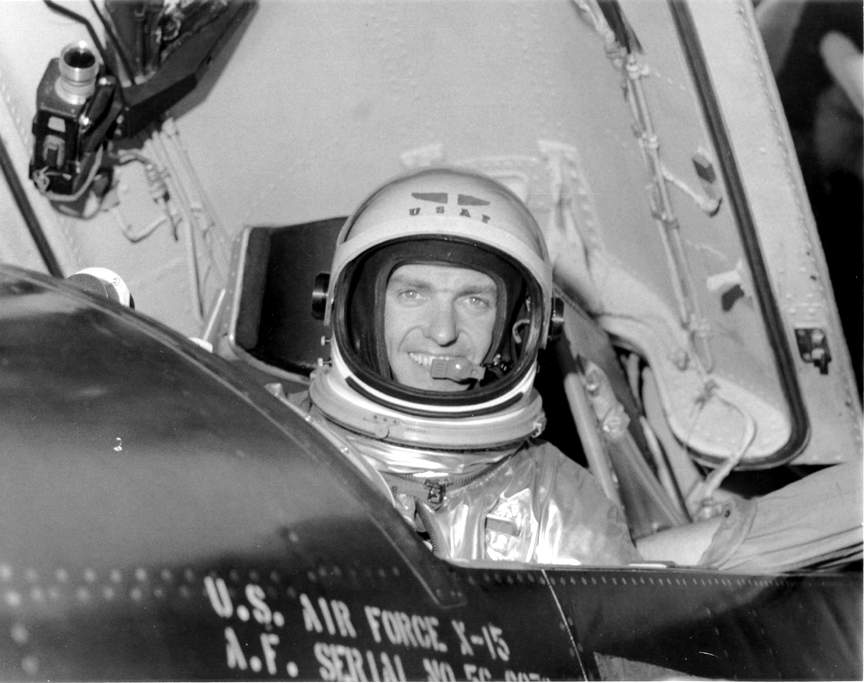 He graduated from ARPS in 1963 and was selected as a project pilot for the X-15 program. He completed 16 flights in the rocket-powered hypersonic airplane, exceeding Mach 5 on ten of those flights and attaining a top speed of Mach 5.71 (3,886 mph). In June of 1965, he also climbed to an altitude of 280,600 feet and thereby became one of only eight pilots-all from the X-15 program-who have qualified for astronaut's wings by flying an airplane into space. He went on to exceed the Air Force's 50-mile threshold for astronaut rating on two subsequent X-15 flights.
Les vols de Joe Engle

N° du vol

Pilote

Date

Vitesse (Mach)

Altitude (m)

Remarque

1-39-63

Engle

07/10/63

4.21

23.713

Premier vol de Engle

1-41-65

Engle

14/11/63

4.75

27.676

_

1-43-69

Engle

08/01/64

5.32

42.641

_

1-46-73

Engle

08/04/64

5.01

53.340

_

1-48-75

Engle

19/05/64

5.02

59.680

_

3-30-50

Engle

08/07/64

5.05

51.938

_

3-31-52

Engle

29/07/64

5.38

23.774

_

3-35-57

Engle

28/09/64

5.59

29.566

_

1-51-81

Engle

10/12/64

5.35

34.503

_

3-40-63

Engle

02/02/65

5.71

29.931

_

3-41-64

Engle

23/04/65

5.48

24.292

_

3-42-65

Engle

28/05/65

5.17

63.886

_

3-43-66

Engle

16/06/65

4.69

74.585

_

Engle

29/06/65

4.94

85.527

Première mission spatiale scientifique, test d'un capteur infrarouge

3-46-70

Engle

10/08/65

5.20

82.601

_

Engle

14/10/65

5.08

81.229

Premier vol spatial du X-15 n°1
At 32, he was the youngest man to become an astronaut. When NASA selected him as one of 19 new astronaut candidates in 1966, he was truly in an unusual position; he was the only one who had already engaged in spaceflight operations.
First assigned to the Apollo program, he served on the support crew for Apollo X and then as backup lunar module pilot for Apollo XIV. In 1977, he was commander of one of two crews who were launched from atop a modified Boeing 747 in order to conduct approach and landing tests with the Space Shuttle Enterprise. Then in November 1981, he commanded the second flight of the Shuttle Columbia and manually flew the re-entry-performing 29 flight test maneuvers-from Mach 25 through landing roll out. This was the first and, so far, only time that a winged aerospace vehicle has been manually flown from orbit through landing. He accumulated the last of his 224 hours in space when he commanded the Shuttle Discovery during Mission 51-I in August of 1985.
Now retired from NASA, the Air Force and the Kansas Air National Guard, he currently serves as an engineering consultant and simulation evaluation pilot for Space Shuttle modifications and other advanced piloted re-entry vehicles. Joe Engle holds the unique distinction of being the only astronaut to have flown two entirely different winged vehicles-the X-15 and the Space Shuttle-into space.
He has flown more than 180 different aircraft types and logged nearly 14,000 flight hours. His military decorations include the Department of Defense Distinguished Service Medal, USAF Distinguished Service Medal and the Distinguished Flying Cross with Oak Leaf Cluster. Among his many honors, he has been awarded the NASA Distinguished Service Medal and Space Flight Medal, as well as the Harmon International, Collier, Lawrence Sperry, Iven C. Kincheloe, Robert H. Goddard and Thomas D. White aviation and space trophies. In 1992, he was inducted into the Aerospace Walk of Honor.
Pete Knight grew up in Noblesville, Indiana, and enlisted in the USAF in 1951. After receiving his commission through the training in 1953. Flying an F-89D for the 438th Fighter-Interceptor Squadron, he won the prestigious Allison Jet Trophy Race in September of 1954. After completing his undergraduate education with a degree in aeronautical engineering from the Air Force Institute of Technology in 1958, he attended the USAF Test Pilot School at Edwards AFB where he graduated later that same year.
He remained at Edwards where he served as project test pilot on the F-100, F-101, F-104 and, later, T-38 and F-5 test programs. In 1960, he was one of six test pilots selected to fly the X-20 Dyna-Soar which was slated to become the first winged orbital space vehicle capable of lifting reentries and conventional landings. After the X-20 program was canceled in 1963, he completed the astronaut training curriculum at the new USAF Aerospace Research Pilot School at Edwards in 1964 and was selected to fly the X-15.
He had more than his share of eventful flights in the airplane. While climbing through 107,000 feet at Mach 4.17 on June 29, and all onboard systems shutdown. After arching over at 173,000 feet, he calmly set up a visual approach and, resorting to old-fashioned "seat-of-the-pants" flying, he glided down to a safe emergency landing at Mud Lake, Nevada.
Les vols de Pete Knight

N° du vol

Pilote

Date

Vitesse (Mach)

Altitude (m)

Remarque

Knight

30/09/65

4.06

23.348

Premier vol de Knight

3-50-74

Knight

12/10/65

4.62

28.773

_

1-64-107

Knight

12/07/66

5.34

39.624

_

Knight

21/07/66

5.12

58.613

Premier vol de Knight sur X-15A-2

2-47-84

Knight

03/08/66

5.03

75.895

_

2-48-85

Knight

12/08/66

5.02

70.440

_

2-49-86

Knight

30/08/66

5.21

30.540

_

Knight

18/11/66

6.33

30.144

Le X-15A-2 bat le record de vitesse du X15A

Knight

08/05/67

4.75

29.748

Test de l'influence d'une maquette de statoréacteur sur la stabilité et le contrôle du X-15A-2

Knight

29/06/67

4.17

52.730

Panne simultannée du XLR-99, du SAS et des APU ! Knight parvient in extremis à se poser après redémarrage d'un APU ce qui lui vaudra une Distinguished Flying Cross !

Knight

21/08/67

4.94

27.737

Premier test du manteau de protection thermique du X-15A-2

Knight

03/10/67

6.70

31.120

Record absolu de vitesse pour un avion piloté, l'appareil est endommagé par l'échauffement cinétique et ne sera pas remis en service. 15ème et dernier vol du X-15A-2.

Knight

17/10/67

5.53

85.496

Premier vol spatial de Knight

1-76-134

Knight

26/04/68

5.00

63.093

_

1-78-138

Knight

16/07/68

4.79

67.513

_

1-80-140

Knight

13/09/68

5.37

77.450

Dernier vol de Knight et avant dernier vol du X-15
For his remarkable feat of airmanship that day, he earned a Distinguished Flying Cross. Months later, on October 3, 1967, he accomplished a major milestone, as he piloted the modified X-15A-2 to a speed of 4,520 mph (Mach 6.7)-a speed which remains, to this day, the highest ever attained in an airplane. During 16 flights in the rocketplane, Knight also became one of only five pilots to earn astronaut's wings by flying an airplane in space when he climbed to 280,500 feet on October 17, 1967. After nearly ten years of test flying at Edwards AFB, he went to Southeast Asia in 1968 where he completed a total of 253 combat sorties in the F-100. Following his combat tour, he served as test director for the F-15 System Program Office at Wright-Patterson AFB, Ohio. In this capacity, he became the tenth pilot to fly the F-15 Eagle and completed some of the initial evaluations of the fighter. Following a subsequent assignment as Director of the Fighter Attack System Program Office, he returned to Edwards AFB as vice commander of the AFFTC in 1979.
During this, his final active duty assignment, he remained an active test pilot in the F-16 Combined Test Force. After 32 years of service and more than 6,000 hours in the cockpits of more than 100 different aircraft, he retired from the USAF in 1982. In 1984, he was elected to the city council of Palmdale, California, and, four years later became the city's first elected mayor. In 1992, he was elected to serve in the California State Assembly representing the 36th District and, since 1996, he has continued to serve as a state senator representing California's 17th Senate District. Among his many honors, Colonel Knight has been awarded the Legion of Merit with one Oak Leaf Cluster, the Distinguished Flying Cross with two Oak Leaf Clusters, the Air Medal with ten Oak Leaf Clusters, the Harmon International Trophy, the Octave Chanute Award, and the Air Force Association Citation of Honor. He has been inducted into the National Aviation Hall of Fame (1988), the Aerospace Walk of Honor (1990), and the International Space Hall of Fame (1998).